A champion is crowned
No. 24-seeded Miller Park upends No. 3 AT&T Park in championship
Updated:
June 22, 2012, 10:20 PM ET
By
Jim Caple
|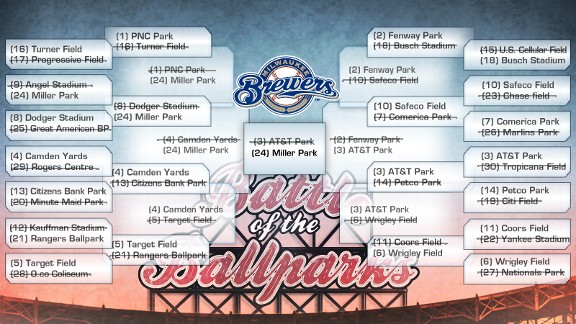 ESPN.com IllustrationMiller Park defeated AT&T Park by a sizable margin in the championship.
The electoral college finally makes sense to me.
Our Battle of the Ballparks Bracket is complete, and the upset winner over Camden Yards, Fenway, Wrigley, PNC, AT&T and all the others is Milwaukee's Miller Park. Well, it's an upset winner based on its No. 24 seed. It's not such an upset winner if you've been following the votes over the past week.
That's because the passionate fans of baseball's smallest market overcame the odds by getting out the vote for their favorite stadium. While other fans might have taken their matchups for granted, the Wisconsin electorate was so energized you would have thought we tried to end collective bargaining for beer vendors. Perhaps that's a lesson for the rest of us.

Miller Park's victory is an upset, but it is hardly the equivalent of Adam Sandler winning an Oscar. That would have been the case had Tropicana Field won, but not Miller Park. While it was obviously seeded low, as I've pointed out over the years, almost all the newer stadiums are great places to watch a game. The difference between, say, the 10th-best stadium and the 24th isn't a lot, and often just a matter of personal preference (or tax burden).
No one writes sonnets to Miller Park or refers to it as a lyrical little bandbox, but Milwaukee fans showed that they love their stadium just as much as Red Sox fans love Fenway or Giants fans love AT&T Park. The rest of the nation too often ignores them (though definitely not the commissioner) but Brewers fans love meeting with friends for the greatest tailgate parties in baseball, then going inside to watch their team while savoring bratwursts with stadium sauce or stadium mustard (my favorite), reassured they won't need umbrellas if it's raining (or snowing) but should pack sunscreen in case it's sunny.
So congrats, Milwaukee. Have Bernie do a victory slide or Robin circle the field on his Harley. I would be happy to hand you the winning certificate and throw out the first pitch at a game. I'll be the one wearing the Darth Vader Sausage Trooper costume.
(Oh, and by the way, to once again set the record straight -- I am not from the East Coast. My mother is from Wisconsin, my parents met in Milwaukee, I grew up in the Pacific Northwest, I covered baseball for a decade in the Midwest, I drove to annual tailgate parties with friends at County Stadium, I once ran in the Sausage Race at Miller Park and I now live in the Seattle area. I do not have an East Coast bias nor do I dislike the Brewers. I just happen to think Pittsburgh's PNC Park is best.)
(3) AT&T Park vs. (24) Miller Park
---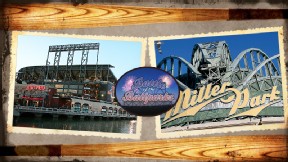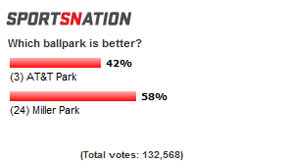 Welcome to Wisconsin Real Estate with Lisa Bear
Thank you for visiting.
Please feel free to
contact me
for any of your real estate needs including an
online market
if you are a
seller
, or
finding a home
if you are a
buyer
. My real estate focus in the
Waukesha County
,
Milwaukee County
,
Lake Country
,
Jefferson County
,
Dodge County
and
Washington County
areas. I have my IRES designation (International Real Estate Specialist) so I can assist you with all your real estate needs in
Wisconsin,
the USA or anywhere in the
WORLD
!
When you are seriously looking or just browsing at
real estate in Wisconsin
, I am a great resource to help you with all your needs and questions, whether a
first time home buyer
,
relocating
to or from the beautiful
LAKE COUNTRY
area, looking to invest or
explore foreclosure opportunities
or just thinking ahead to the future.
The
prospering communities
of
Waukesha County
including
Delafield
,
Waukesha
,
Oconomowoc
,
Pewaukee
,
Waukesha
,
Sussex
,
Wales
,
New Berlin
,
Dousman
,
North Prairie
,
Mukwonago
,
Chenequa
,
Menomonee Falls
,
Brookfield
,
Elm Grove
,
Okauchee
,
Eagle
,
Muskego
and
Merton
.
Great municipalities
in Milwaukee County including
Milwaukee
,
South Milwaukee
,
Wauwatosa,
Hales Corners
, Greenfield, Glendale, Franklin, Bayside, Brown Deer, Cudahy,
Fox Point
, Greendale, Shorewood, Oak Creek, St. Francis, West Allis and Whitefish Bay.
The
hometown favorites
of Washington County, Jefferson County and Dodge County including
Watertown
, Hartford, West Bend, Germantown, Jackson, Richfield, Ashippun, Lake Mills, Jefferson, Johnson Creek, Slinger and Erin.
Real Estate in Wisconsin
is an excellent investment!
"HELPING YOU MOVE IN THE RIGHT DIRECTION"